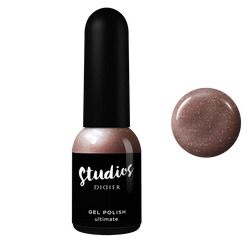 PROPERTIES
Quick and even coverage of the nail. Ideal coverage by gliding over the surface of the nail. The included regulator Polyacrylate-15 is responsible for layer-by-layer texture control (LbL).

The special texture gum-like consistency immediately masks the unevenness of the nail.

Super Shine Effect - lasts the entire time of wearing!

The colors do not fade or change their shade!

Lacquer wears 14+.

Easily soluble
USAGE
After performing the manicure, degreasing the nail plate "Didier Lab" Dehydrator, choosing the base according to the condition of the nail, apply 1 or 2 thin layers of gel polish.

Polymerization - 30-60 seconds.

 

LED / 120 sec.

 

UV.

Cleaning - dissolution in polish remover/mill depending on the instructions for the base used.
COMPOSITION
The revolutionary ingredient  Hydroxycyclohexyl Phenyl Ketone,  which is an organic compound that meets the requirements of legislation - is also called "green" technology by scientists, and its advantages in creating this product are obvious: instant hardening with low energy, resistance to scratches and chemicals, low varnish!
Di-Hema Trimethylhexyl Dicarbamate, Polyacrylate-15, Hydroxycyclohexyl Phenyl Ketone, Phenyl Bis(2.4.6-Trimethylbenzoyl)-Phosphine Oxide, Hema(Hydroxyethyl) Methacrylate, CI-17200, CI-15850, CI-77499, CI-77492, CI -77510, CI-77742, CI-77510, CI-77742, CI-77891, CI-15985:1.
YOU MAY ALSO LIKE THESE PRODUCTS