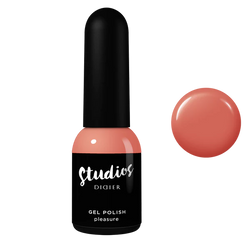 PROPERTIES:
Studios Didier" gel polish, Pleasure, 8 ml.
Studio "Pleasure" collection polishes stand out for their consistency and the resulting effect, which is a light, rich kissel shade.

 

Depending on the selected number of varnish layers, you will get different color intensity.
Quick and even coverage of the nail.

 

Ideal coverage by gliding over the surface of the nail.

 

The included regulator Polyacrylate-15 is responsible for layer-by-layer texture control (LbL).
The special texture gum-like consistency immediately masks the unevenness of the nail.
Super Shine Effect - lasts the entire time of wearing!
The colors do not fade or change their shade!
The polish lasts 14+





Easily soluble.
USAGE: 

After performing the manicure, degreasing the nail plate "Didier Lab" "Dehydrator", choosing the base according to the condition of the nail, apply 1 or 2 thin layers of gel polish.

Polymerization - 30-60 seconds.

 

LED / 120 sec.

 

UV.

Cleaning - dissolution in polish remover/mill depending on the instructions for the base used.
COMPOSITION:

The revolutionary ingredient  Hydroxycyclohexyl Phenyl Ketone,  which is an organic compound that meets the requirements of legislation - scientists also call it "green" technology and its advantages in creating this product are obvious: instant hardening with low energy, resistance to scratches and chemicals, low varnish!
Di-Hema Trimethylhexyl Dicarbamate, Polyacrylate-15, Hydroxycyclohexyl Phenyl Ketone, Phenyl Bis(2.4.6-Trimethylbenzoyl)-Phosphine Oxide, Hema(Hydroxyethyl) Methacrylate, CI-17200, CI-15850, CI-77499, CI-77492, CI -77510, CI-77742, CI-77510, CI-77742, CI-77891, CI-15985:1.
YOU MAY ALSO LIKE THESE PRODUCTS