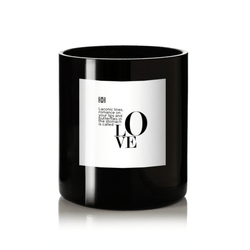 Standart candle 'Didier Lab', LOVE, 240gr.
Mulberry Flower
Upper: bergamot / black and red currant
Heart: peonies / roses
Base: sandalwood / musk
Candles are made from 100% palm oil. Handmade.
Luxurious scents and high concentration will allow you to enjoy a long-lasting choice of notes.
The keywords used in the names reflect a certain scent and the "style" of life. Gaelic blossoms smell LOVE, amra or vanilla resembles NAMUS and so on.
Just as a woman smells of her favorite perfume, evokes emotions and reveals her story, Didier Lab's home scents magically transform the home and work environment.
The name serves as a souffle candle to choose according to occasion or mood.
Each candle or scent of different design reflects a different emotion. Each label is like a part of a collection that can become a beautiful part of the interior. Different designs encourage the collection of the entire collection.
YOU MAY ALSO LIKE THESE PRODUCTS