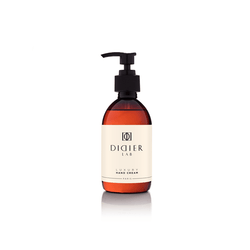 Didier Lab Softening Foot Cream, 250ml 3760247802665
The cream is intended for rough, dry and cracked foot skin.
Active ingredients:
Urea softens, moisturizes and helps to remove the horny layer of skin.
Salicylic Acid (Salicylic Acid) has soothing and moisturizing properties and removes the feeling of heaviness in the feet.
Ceramides are found in the cell membrane and are responsible for protective, barrier skin function. Also responsible for preserving transepidermal water, skin elasticity.
Kukui nut oil enriches the cream with linoleic and linolenic acids. For Kukui, the oil refreshes and restores skin balance. This oil is often used to treat eczema, psoriasis, acne and other skin conditions.
Vitamins A, E (Vitamins A, E). Vit. E is a potent antioxidant that helps maintain healthy skin. Vitamin A gives elasticity and softness to the skin and improves its structure. The skin rejuvenates more quickly and becomes more beautiful.
Lanolin (Lanolin) - Natural animal wax extracted from sheep's wool. Lanolin is an organic ester and is similar to the oil (fat) released from our skin. Therefore, lanolin is a great revitalizer and moisturizer for the skin.
D-Panthenol (D-Panthenol) - aka vitamin B5. also known as vitamin B5. D-panthenol is used in cosmetics because vitamin B5 does not pass through the horny layer of the epidermis. The letter 'D' before the name indicates the active biodiversity of panthenol. D-panthenol, meanwhile, penetrates deep layers of the skin. In the body, D-panthenol is converted into vitamin B5 - essential for healthy skin. Panthenol tones the skin, prevents inflammation, moisturizes, gives skin softness and firmness. Soothes irritation, regenerates damaged epidermis and prevents dandruff.
Violet Orphan Extract (Viola Tricolor Extract). Tricolor orphan contains salicylic acid, which is particularly effective in treating various skin conditions. This extract is classified as a skin softening and protecting product.
Operation:
Softening and antibacterial effects
Reduces skin irritations
Accelerates skin regeneration processes
Providing intermolecular lipid bonds.
Method of use:
Massage a small amount of cream on the feet and toes including the toes. Use the cream at the end of the pedicure procedure or for daily foot care.
Warning:
The cream is not suitable for children under 3 years
Capacity: 250 ml
YOU MAY ALSO LIKE THESE PRODUCTS