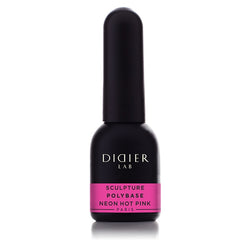 Didier Lab Sculpture Polybase is a hybrid of Base, Color and Gel in one formula. It is a TRIPOLYMER technology that enables you to do the job quickly and flawlessly.
The advanced TPO compound in the formula is responsible for the fast curing of the polymers even with a high content of pigments and ensures excellent adhesion of the material to the nail plate. Extremely high pigment content, viscous texture enables the product to perform shaping and even restore nail architecture without much effort. The unique viscous, well-pigmented texture ensures a smooth surface of the formed nail and color.
Colored Sculpture Polybase combines the best properties of base, varnish and gel:
Extremely strong adhesion to the nail plate

Easy application and nail plate formation perform the function of a base

1 coat, light and fast varnishing. Consistency does not leak.

Portable as a gel: SOLID, DURABLE, DURABLE
 Features:
Base and color "2 in 1"

Sculptural

Instantly masks all nail bumps

It is possible to perform the cast French technique

Elastic texture

Viscous stretchy consistency

Self-leveling

Does not heat / burn nail plate
APPLICATION OPTIONS:
For different types of nail plates, choose one of the following combinations of uses:
BOND * + Polybase. Depending on the type of nail plate, choose one of the additional binders.
            * Acid free Bond, Extra Bond Nail Repair, Acid Primer 
Base Coat + Polybase. An additional option is to use a transparent base to smooth out extremely deformed nails, or to ensure even better adhesion of the nail plate to the Polybase. 
Use of Polybase with gel, acrylic and polygel systems as a color coating. 
METHOD OF USE:
Prepare the nail plate as usual: perform a manicure and give the nail a shape

Remove excess grease and moisture from the Didier Lab Dehydrator nail plate.

Varnish all nails with the selected additional bonding agent: Acid free Bond, Extra Bond Nail Repair, Acid Primer or transparent base.

Varnish dark Polybase colors with 1 thin layer and dry in a lamp LED lamp 60s / UV 2min (at a lamp wavelength of 395-405nm

Varnish with Polybase 2 layer and dry in a lamp in an LED lamp 60s / UV 2min (at a lamp wavelength of 395-405nm)

Apply Top coat with the selected top coat of gel polish. Dry in LED lamp 60s / UV for 2min.
* Light colors can be varnished with 1 rich forming layer due to permeability. Varnish dark colors in 2 coats. 
IMPORTANT! Did you know that the drying of highly pigmented varnishes in a lamp is affected by nanometers (beam length)? Make sure your lamp is powerful enough. The most suitable wavelength for the new generation of highly pigmented varnishes is 395-405nm. If your lamp has a lower wavelength to ensure proper polymerization of the material, double the drying time. 
Choose a lamp with a white or mirror bottom. These reflections improve the quality of the polymerization. If you do not have such a lamp, just place a white sheet, a mirror or a piece of aluminum foil under the bottom of the lamp. 
REMOVAL:
Sculpture Polybase is a soluble product. However, its removal depends on the means of tying chosen:
Extra Bond Nail Repair with Vitamins + Polybase - removal cutter

Acid Free Bond, Acid Primer + Polybase - dissolving with gel polish solvents 5-10min

Base + Polybase - depending on the selected base select and removal method
Capacity: 10ml.
YOU MAY ALSO LIKE THESE PRODUCTS