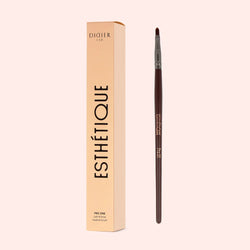 This professional handmade brush has a pioneering cat's tongue shape which allows precise application of the product during eyelash and eyebrow procedures. It was specifically designed to be lightweight so you can focus on the application rather than the brush. This brush ensures an application of the perfect amount on the eyelashes and eyebrows and thus guarantees an optimal result. 
Shape : hand-cut rounded, cat's tongue, ultra-thin 
Handle : wooden with a double layer of silicone acrylic paint 
Water resistant , can be disinfected 
Type of brush : resistant, balance between elasticity and softness   
Bristles : synthetic bristles do not absorb material between each bristle, which extends the life of the brush and saves product  
Recommended for : Pro Lift and Pro Set Brow enhancement product application

Created by professionals for professionals.
Quantity: 1pcs
How to clean and disinfect brushes: 
After using the brush, rinse it under water with a mild soap to remove product residue. 

Dry well with a clean cloth or paper towel. 

Spray the brush with disinfectant (a pump or two). 

Allow to dry completely with the brush head down to protect the glue inside the brush.
YOU MAY ALSO LIKE THESE PRODUCTS