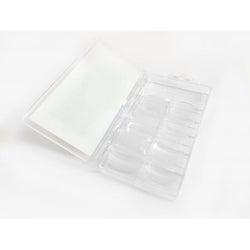 Molds for extensions Polygel, 100pcs
Flexible and durable reusable nail extensions are perfect for working with Polygel. These shapes will make your nails look natural and graceful. They are very easy to use for advanced craftsmen, beginners and those who want to nail themselves.
- The perfect shape of a beautiful nail
- 100 pieces per pack
- Easy to use
- Time-saving and minimal filing to give shape
- Reusable
- Made of UV plastic
Method of use:
- Choose the right size for your current nail shape. The shape should be slightly larger than the size of the nail.
- Squeeze Polygel and grab the ball of material with a metal spatula.
- Apply Polygel to the inside of the nail shape and distribute it evenly with the Polygel brush. Shape and control the desired amount of material.
- Before drying, lightly press and hold for a few seconds to make sure the Polygel sticks to the air gap.
- Dry the lamp in LED 30s, UV 60s.
- Carefully remove the mold from the nail.
- The surface of the nail remains shiny and smooth. Extra filing is almost unnecessary. Use the file to give the desired free nail edge.
- Coat your nails with colored varnish or top coat.
YOU MAY ALSO LIKE THESE PRODUCTS