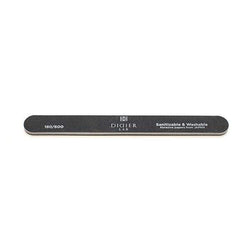 NAIL FILTER - POLISHER
Black, straight, 180/600 grit.
These are the highest quality double-sided professional nail files! Extremely durable and comfortable. They are manufactured using Japanese abrasive, which is characterized by durability, durability and efficiency. These files can be washed and disinfected. There are 'Didier Lab' nail files of various roughness and two popular shapes: straight and D (crescent). Rough texture files for artificial nails, soft texture for natural nails.
YOU MAY ALSO LIKE THESE PRODUCTS