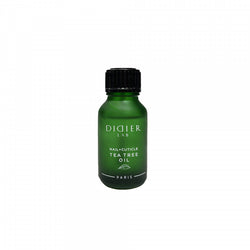 Tea Tree Nail + Cuticle  oil
Tea tree oil, 15 ml


DESCRIPTION

Tea tree oil is used for cracked and naturally discolored nails and rough peeled cuticles. The oil is a great and safe way to keep the cuticles moisturized, nourished and nourished.

Nourish, moisturize the cuticles and ensure nail protection and healthy nail condition. Didier Lab Tea Cuticle Oil helps restore and maintain healthy cuticles and nails. Use this pleasant procedure daily to give your nails shine and maximum moisture. Perfect for all types of nails. 


METHOD OF USE
Use daily, always. Apply a drop of oil on the nails and massage gently. 
YOU MAY ALSO LIKE THESE PRODUCTS