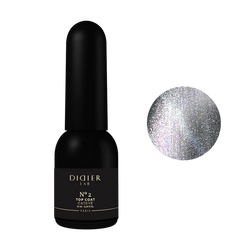 All you need is one coat of the Cat Eye Top Coat for your manicure to look stunning. Color-changing holographic particles will give your nails a fairytale effect.

Features :

Thick and opaque texture

Elastic and scratch-resistant formula

Without dispersion layer 

Cat's eye effect made with a magnet
Manual :

Prepare the nail plate: do your usual manicure and shape the nail.

Eliminate all traces of grease and moisture using the Dehydrator Didier Lab.

If necessary, use a bonding agent (Acid Free Bond; Extra Bond Nail Repair; Acid Primer).

Apply a base coat of your choice.

Apply a colored varnish and dry under the lamp. Tip: the cat's eye effect is more successful on a layer of black varnish.

Apply Cat Eye Top Coat. You will need a magnet to achieve the desired effect. Use the magnet on a wet layer of nail polish, holding it as close to the nail bed as possible. By experimenting with the magnet, you can make all sorts of different Cat Eye designs. Apply a second coat for a more pronounced Cat Eye effect.

Dry under LED lamp 1min. / under UV lamp 2min.

Apply a topcoat of your choice to seal everything. Drying under LED lamp 1min. / under UV lamp 2min.
Removal: use a nail file or dissolve in acetone.


INGREDIENTS: Acrylates Copolymer, Ethyl Methacrylate, Cyclohexyl, Methacrylate/Ethylhexyl, Methacrylate Copolymer, Diphenyl (2,4,6-trimethylbenzoyl) phosphine oxide, Iron powder.
YOU MAY ALSO LIKE THESE PRODUCTS