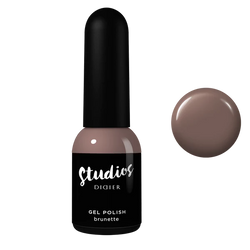 Semi-permanent nail polish.
This new generation semi-permanent nail polish has been designed according to the recommendations and needs of professional technicians. All the most important and essential characteristics for the masters of the manicure are concentrated in this small bottle, in other words a pure jewel of quality!

Thanks to its components and their respective qualities, this gel varnish is designed to suit both beginners and advanced technicians. The Hydroxycyclohexyl Phenyl Ketone, a revolutionary organic component that meets regulatory requirements, also called "green technology" brings an obvious advantage in the development of this product: instant cure with low energy, scratch and chemical resistance and low volatility .
Fast and regular coverage: the special liquid gum effect stretch texture of this varnish instantly covers imperfections of the plaque.
A rich pigment color for perfect coverage in one layer.
A Super Shine effect that lasts.
No discoloration or change of shade.
Long lasting 14 days and more.
Easily soluble.
Catalyze 60s under LED lamp or 120s under UV lamp.
Application : 
Prepare the nail as usual 

Remove excess fat and water using the Didier Lab Dehydrator

Apply a primer if necessary: ​​Acid Free Bond, Extra Bond Nail Repair 

 Apply a base coat (Studios, Rubber or Fiber) 

Apply 1 to 2 layers depending on the desired result, catalyze each layer 60s under LED lamp / 2min under UV lamp (35-405nm wavelength lamp) 

Apply the top coat of your choice 
Removal:
Dissolve in acetone or file with a sander (depending on the base used).
Capacity :   8ml
Ingredients:  Di-Hema Trimethylhexyl Dicarbamate, Polyacrylate-15, Hydroxycyclohexyl Phenyl Ketone, Phenyl Bis(2.4.6-Trimethylbenzoyl)-Phosphine Oxide, Hema(Hydroxyethyl) Metharcrylate, CI-17200, CI-15850, CI-77499, CI-77492 , CI-77510, CI-77742, CI-77510, CI-77742, CI-77891, CI-15985:1.
YOU MAY ALSO LIKE THESE PRODUCTS