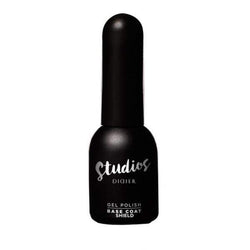 Semi-permanent nail polish base.
This semi-permanent varnish base is easy to apply, it is a good base of smoothing designed for all types of nail. Excellent adhesion to the natural nail plate, this base functions as a double-sided tape by connecting the nail plate and nail polish.
The Coat Studios Didier Base prolongs the hold time of the semi-permanent varnish and completely eliminates the risk of air entry under the gel layer.
Characteristics :
Distributed easily on the surface of the nail plate;
Self-leveling;
Strengthens the adhesion of the semi-permanent to the nail plate;
Prevents the air from coming in and between the gel layer and the nail;
Easy application even on irregular plate;
Easy removal in 5-7 min with Remover Studios Didier (solvent)
YOU MAY ALSO LIKE THESE PRODUCTS