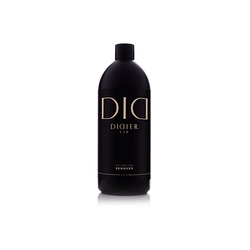 GEL Polish remover
( Gel polish remover),
1000 ml.
DESCRIPTION
Professional remedy for gentle cleaning of long lasting nail polish, acrylic and nail glue without completely damaging the nail plate. Enriched with castor oil, which protects the nail plate and cuticles from drying out and bleaching. Pleasant smell.
HOW TO USE
1. For better fluid penetration with 180grit. gently dampen the top coat with Top Coat.
2. Immerse the foil pad with the 'Gel Polish Remover', cover with a prepared nail plate and wrap the nail / finger with foil. Hold for 5-10 minutes.
3. Remove the foil with a cotton swab and gently remove the gel polish with an orange stick.
4. Repeat the process if necessary.
YOU MAY ALSO LIKE THESE PRODUCTS