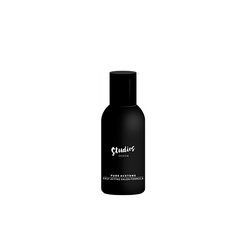 Solvent for semi-permanent nail polish. Studios Didier Pure Cosmetic Acetone is a solvent with pure acetone for the removal of semi-permanent varnish. 
To speed up the process and allow the product to penetrate more easily, lightly file the surface of the varnish with a 180 file.

Soak a cotton from Studios Didier Pure Cosmetic Acetone, place it on the nail and wrap everything with aluminum foil.

Leave on for 5-10 minutes before removing the foil.

Remove the excess with a stick of boxwood.
If necessary, repeat the process.
Attention: reserved for professional use.
Keep out of the reach of children.
YOU MAY ALSO LIKE THESE PRODUCTS