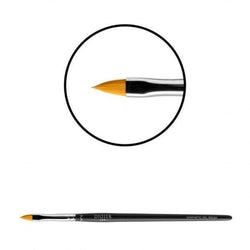 Gel brush No6 cat tongue (golden toray)
The quality of a brush is judged by the quality of its hair that's why Didier Lab offers a line of brushes specifically designed for nail technicians after a detailed study of their specific needs.
The Didier Lab brushes are essentially made from golden tiger Toray hair. This mixture of synthetic bristles of different diameters makes it possible to achieve a result as excellent as with a marten brush. The brush remains flexible while keeping its shape firmly even when largely soaked with liquid.
The application of the gel will be more precise and easier.
YOU MAY ALSO LIKE THESE PRODUCTS