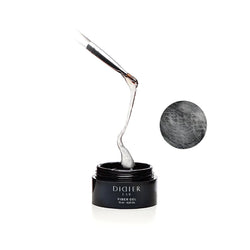 Fiber Glass Gel contains a high concentration of fiberglass particles which create an extremely strong cobwebbed base for very weak, flexible and broken nails. The formula ensures optimal adhesion to problem nails, it is possible to perform manicure and pedicure extensions.
This gel is used as a modelling tool or can be used as a base before semi-permanent varnish in cases where the client's nails are problematic.

How to use it: 

Prepare the nail plate as usual: perform a manicure and shape the nail.
Remove excess grease and moisture from the nail plate using the Didier Lab Dehydrator.
If necessary (depending on the condition of the nail plate), apply an additional bonding agent (Acid free Bond, Extra Bond Nail Repair or Acid Primer).
Shape, cover, shape, extend with Fiber Glass Gel and dry under LED lamp for 30-60 seconds / UV lamp for 120 seconds. Minimum power of 36 W.
Remove the dispersion layer using Cleaner.
If necessary, smooth out the shape and irregularities with a nail file.
Then, according to your choice, apply a colour of semi-permanent varnish and dry under LED lamp for 60s / UV lamp for 2 min. Finish the installation with a Top Coat.
Removal: Use a sander.

Ingredients: Acrylates Copolymer, Hydroxypropyl Methacrylate, Cellulose Acetate Butyrate, Dimethicone, Microcrystalline Wax, Ethyl Trimethylbenzoyl Phenylphosphinate.
YOU MAY ALSO LIKE THESE PRODUCTS