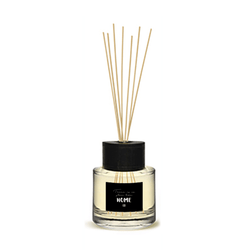 Diffuser 'Didier Lab', HOME, 200ml
Long Courier
Sweet and strong woody scent in the top notes, it replaces the more warm wood with vanilla sweetness in the heart notes. Disperse and leave a trace of a strong combination of musk and flowers - sweet and aromatic in base notes.
The keywords used in the names reflect a certain scent and the "style" of life. Gaelic blossoms smell LOVE, amra or vanilla resembles NAMUS and so on.
Just as a woman smells of her favorite perfume, evokes emotions and reveals her story, Didier Lab's home scents magically transform the home and work environment.
The name serves as a souffle candle to choose according to occasion or mood.
Each candle or scent of different design reflects a different emotion. Each label is like a part of a collection that can become a beautiful part of the interior. Different designs encourage the collection of the entire collection.
YOU MAY ALSO LIKE THESE PRODUCTS