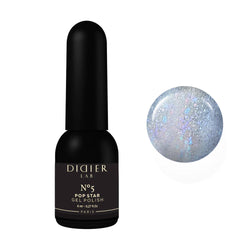 "Didier Lab" gel polish "POP Star", No 5, 8ml

Shine like a star with the polishes from the newest collection "POP Star"! The "POP Star" gel polishes are enriched with various sizes of iridescent and holographic glitter, giving the impression that your nails are adorned with multicolored gemstones. The shimmering particles change color and shine intensity with every movement or change of light, so every hand gesture will look enchanting.
These gel polishes are an ideal choice for everyday life as well as special occasions.
Subtle and enchanting colors with luxurious glitter.
Long lasting hold without flaking or peeling off.
Strong pigmentation, perfect and smooth coverage without the glitter particles peeling off.

Quantity: 8ml

USAGE:
Perform a manicure, degrease the nail plate with "Didier Lab" Dehydrator, choose a base according to your nail condition and apply one or two thin layers of gel polish.
Polymerisation - 60 sec. LED / 120 sec. UV.
Cover with the Top Coat of your choice. Polymerisation - 60 sec. LED / 120 sec. UV.
Removal - dissolve the polish with a remover/ e-file, depending on the instructions of the used base.

INGREDIENTS (INCI): Acrylates Copolymer, 2-Hydroxyethyl Methacrylate, diphenyl(2,4,6-trimethylbenzoyl) phosphine oxide, hydroxycyclohexyl phenyl ketone, N,N'ethlenedi ( steramide), CI 45430, CI 77266, I77120, CI 19140, CI 42090.
YOU MAY ALSO LIKE THESE PRODUCTS