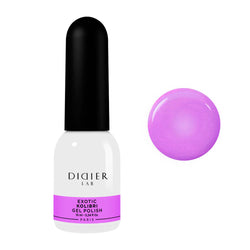 "Didier Lab" Gel Polish "Exotic", Colibri

Exotic - luxurious colours that will transport you to a multicoloured jungle of birds.

These gel nail polishes will enchant you with their variety of colours and subtle sparkle.

13 NEW COLOURS

Each stroke of this polish on your nail will feel like an exotic bird feather.

~ Highly pigmented, bold colours are enriched with tiny sparkles.
~ The Exotic collection of polishes serves two purposes: varnishing and design.
~ It does not run or leak into the sides, self-levelling, applies quickly and evenly, polymerises very fast.
~ Flawless adhesion, colours do not fade or change their shade, the polish does not shrink during polymerisation.
~ The polish lasts for 14+ days.
~ Easily soluble.

USAGE:

Perform a manicure, degrease the nail plate with "Didier Lab" Dehydrator, choose a base according to your nail condition and apply one layer of gel polish.
Polymerisation - 30-60 sec. LED / 120 sec. UV.
Removal - dissolve the polish with a remover/ e-file, depending on the instructions of the used base.
YOU MAY ALSO LIKE THESE PRODUCTS