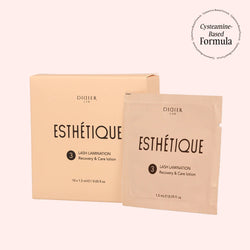 Didier Lab Esthétique Lash Recovery & Care Lotion 10pcs x1.5ml
Our unique 100% vegan blend contains nature-friendly components such as cysteamine HCL and plant-derived amino acids. Cysteamine can break disulfide bonds within the hair, allowing it to be restructured into the desired shape. Unlike other products that use thioglycollate, our lash enhancement system achieves the best results without damaging the lashes. 
Cysteamine minimizes the possibility of over-processing while nourishing and strengthening eyelash bonds.
The result: beautifully curled and shaped lashes, just like other thioglycollate lotions, but without the harmful chemicals!
Step 3 Pro Nourish: 
Nourishes and conditions enhanced lashes, ensuring they remain healthy, hydrated and well-maintained after treatment.
Our 100% vegan products introduce "vegetable keratin", an exceptional component that uses hydrolyzed wheat proteins. These natural wheat grain derivatives form a unique moisturizing complex capable of penetrating deep into the skin's structures. The result is perfectly balanced hydration and silky, shiny lashes.
Ingredients: Aqua (Water), C12-20 Acid Peg-8 Ester, Glycerin, Cetyl Alcohol, Argania Spinosa Kernel Oil, Caprylic/capric Triglyceride, Ricinus Communis Seed Oil (Ricinus Communis (Castor) Seed Oil), Simmondsia Chinensis Seed Oil ( Simmondsia Chinensis (Jojoba) Seed Oil), Sodium Hyaluronate, Hydrolyzed Wheat Protein, Algae Extract, Cetrimonium Chloride, Phenox-Yethanol, Imidazolidinyl Urea, Panthenol, Tocopheryl Acetate, Tetraso-Dium Glutamate Diacetate, Ethylhexylglycerin, Citric Acid
pH : 6.5-7

Quantity  : 10 x 1.5ml
This product is intended for trained professionals only!
YOU MAY ALSO LIKE THESE PRODUCTS