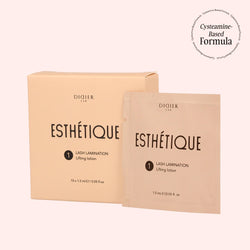 Didier Lab Esthétique Lash Lifting Lotion 10pcs x 1.5 ml
Our unique 100% vegan blend contains nature-friendly components such as cysteamine HCL and plant-derived amino acids. Cysteamine can break disulfide bonds within the hair, allowing it to be restructured into the desired shape. Unlike other products that use thioglycollate, our lash enhancement system achieves the best results without damaging the lashes. 

Cysteamine minimizes the possibility of over-processing while nourishing and strengthening eyelash bonds.
The result: beautifully curled and shaped lashes, just like other thioglycollate lotions, but without the harmful chemicals!
STEP 1 Lifting Lotion: 
Breaks disulfide bonds in hairs, making them more flexible for shaping. The hairs are thus prepared for the following steps in order to obtain enhanced and curled eyelashes.
Ingredients: Aqua(Water), Cysteamine Hcl, Stearyl Alcohol, Sodium Hydroxide, Par-Affinum  Liquidum (Mineral Oil), Ceteareth-25, Propylene Glycol, Cetyl Alcohol, Glycerin, Dimethicone, Disodium Edta, Guar Hydroxypropyltri-Monium Chloride, Parfum ( Fragrance), Petrolatum, Polyquaternium-6, Al-Pha-isomethylIonone, Citronellol, Geraniol
pH: 9.8
Quantity : 10 x 1.5ml
This product is intended for trained professionals only! 
YOU MAY ALSO LIKE THESE PRODUCTS