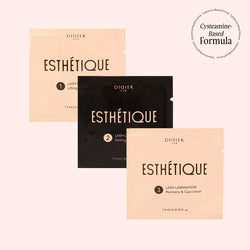 Didier Lab Esthétique Lash Lift System - 3 x 1pcs: 1 piece of each step (1.5ml) 
This product is intended for trained professionals only! 
The eyelash lamination kit consists of 3-step products:
Step 1 Lifting Lotion:
Cysteamine, the active ingredient in Esthétique eyelash lamination products, ensures the best results without damaging the eyelash hairs. The cream of this step breaks the disulfide bonds of the hairs, so they become flexible and obedient to shaping. In this way, the hairs are prepared for the next steps to achieve the desired result.
One package of "Lifting Lotion" product is enough for 4-5 eyelash lamination procedures. The cysteamine-based formula is almost odorless, has a creamy consistency, is convenient to use and is more economical.
Ingredients: Aqua(Water), Cysteamine Hcl, Stearyl Alcohol, Sodium Hydroxide, Par-Affinum Liquidum (Mineral Oil), Ceteareth-25, Propylene Glycol, Cetyl Alcohol, Glycerin, Dimethicone, Disodium Edta, Guar Hydroxypropyltri-Monium Chloride, Parfum ( Fragrance), Petrolatum, Polyquaternium-6, Al-Pha-isomethylIonone, Citronellol, Geraniol
pH: 9.8
Step 2 Setting Lotion: 
Neutralizes the action of the first step product, restores disulphide bonds and fixes the new shape of the eyelashes. Eyelashes become stronger and more elastic, effectively maintaining their new shape.
One package of the Setting Lotion product is enough for 5-6 lamination procedures. 
Ingredients : Aqua (Water), Stearyl Alcohol, Hydrogen Peroxide, Cetearyl Alcohol, Cetyl Alcohol, Lauryl Alcohol, Ceteareth-20, Ceteareth-30, Cetrimoni-Um Chloride, Citric Acid, Cocamidopropyl Betaine, Disodium Pyrophos-Phate, Oxyquinoline Sulfate, Phosphoric Acid, Tetrasodium Edta
pH: 2.75
Step 3  Recovery & Care Lotion:
Nourishes and moisturizes eyelashes after the procedure. Lashes remain strong, healthy and maintained throughout the duration of the results.
The composition of our 100% vegan products is enriched with  innovative  "vegetable keratin" , an exclusive component based on hydrolyzed wheat proteins. These natural wheat grain compounds have a unique moisturizing complex that can penetrate deep into the hair structure. The result is perfectly balanced hydration and silky smooth lashes.  
One package of the Recovery & Care Lotion product  is enough for 6-7 procedures.
Enriched with:
Hydrolyzed wheat proteins  are also known as " vegetable keratin ". Strengthens eyelashes by providing them with essential amino acids and restores damaged hair fibers.
Vitamin E  protects eyelashes from environmental influences. This ingredient ensures that the eyelashes remain elastic and strong.
Argan oil  is rich in beneficial elements, including unsaturated acids and vitamins A, E and F. It not only moisturizes and protects the eyelashes from external factors, but also supports the keratin reserves in the hair, ensuring long-lasting results.
Algae extract  is rich in vitamins, minerals and antioxidants that ensure healthy eyelashes. It promotes strong hair growth by moisturizing and nourishing them.
Panthenol  plays an extremely important role in moisturizing laminated eyelashes, increasing their natural shine. This ingredient ensures that the eyelashes are well moisturized after the procedure.
Castor oil  improves the condition of laminated eyelashes. Thanks to its natural, growth-promoting properties, it can help maintain longer and thicker eyelashes after the procedure.
Hyaluronic acid  acts as a moisturizing polysaccharide that maintains the elasticity and moisture level of the eyelashes.
Simondsia oil  is perfect for eyelash lamination due to its similarity to the epidermis of the skin. It forms a protective film and nourishes and moisturizes the eyelashes, so they remain healthy and vibrant after the procedure.
Ingredients: Aqua (Water), C12-20 Acid Peg-8 Ester, Glycerin, Cetyl Alcohol, Argania Spinosa Kernel Oil, Caprylic/capric Triglyceride, Ricinus Communis Seed Oil (Ricinus Communis (Castor) Seed Oil), Simmondsia Chinensis Seed Oil ( Simmondsia Chinensis (Jojoba) Seed Oil), Sodium Hyaluronate, Hydrolyzed Wheat Protein, Algae Extract, Cetrimonium Chloride, Phenox-Yethanol, Imidazolidinyl Urea, Panthenol, Tocopheryl Acetate, Tetraso-Dium Glutamate Diacetate, Ethylhexylglycerin, Citric Acid
pH: 6.5-7
YOU MAY ALSO LIKE THESE PRODUCTS