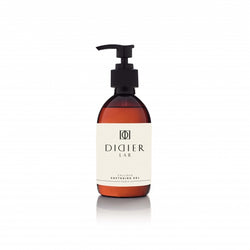 Skin softening gel "Didier Lab", 500 ml   3760247802641
Safely removes wrinkled and dead dry skin, various types of scabs. It contains the active substance urea (20%). The skin becomes soft, supple, and revitalized.
Purpose:
To remove excessively hardened dead skin.
Operation:
softens hardened dead foot skin.

enables quick and easy removal of various scabs, dead wrinkled skin.

shortens the duration of the pedicure procedure.
How to use:  Apply the product on the entire surface of the foot or on the scarred areas. After 5-10 minutes (depending on the condition of the feet or problem areas), wipe off the excess with a towel or paper towel. Continue the procedure with a foot file or cutter and remove any remaining scaly skin. After the procedure, wash the skin with water. The product can be used for both "dry" and "wet" pedicures.
NOTE: In case of contact with eyes, rinse immediately with cold water.
Capacity: 500 ml
YOU MAY ALSO LIKE THESE PRODUCTS