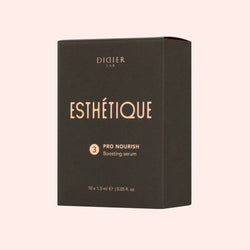 PROPERTIES
Didier Lab Esthétique" moisturizing eyebrow serum No. 3, 1.5 ml. x 10 pcs.
3 STEP PRO NOURISH's unique combination of active ingredients effectively instantly affects the keratin structure of eyebrow hairs and restores them.
Lamination kit (Step:1,2,3) Each kit  consists of 10 packs x  1.5ml
Eyebrow lamination is a great procedure for those with unruly eyebrow hairs. Lamination is also called long-term eyebrow shaping. After the procedure, the hairs become mobile, they can be laid in the desired direction and thus independently form the correct shape of the eyebrows. The procedure is perfect for those whose eyebrow hairs are thin, grow in different directions and cannot be combed or shaped correctly.
Each step of the lamination process has been carefully designed to perfect the product and ensure a long-lasting, safe and effective result.
This procedure completely solves the problem of untidy eyebrows, gives them volume, fullness, and at the same time a smooth eyebrow shape that lasts up to 2 months. Using the new formulation, created with unique ingredients, you can stimulate the growth of eyebrows by creating a protective film around the hair. Your clients will come back more often when they have their brows laminated with this kit.

Instructions for use can be found at the bottom of this page.

This product is intended for use by trained professionals only. 
 Up to 40 lamination procedures can be performed with one box.
Air-tight bags   - small-volume, single-use bags protect the active ingredients from oxidation, which allows the procedure to be performed equally and efficiently every time.
Each packet  is reusable and can be used by up to 4 customers.
After opening the package,  the procedures can be used up to 7 days. If necessary, perform an allergy test for up to 14 days.
COMPOSITION
The composition is enriched with:
Panthenol: penetrates deep into the core of the hair thus restoring it after the dyeing and laminating procedure and stopping the aging processes.
Hyaluronic acid: has moisturizing and softening properties. Moisturizes and conditions the hair.
Marshmallow extract : prevents hair loss, fixes their shape.
Aloe Vera: conditions hair and skin, provides smoothness and shine.
Hydrolyzed rice: gives hair a healthy shine and increases its content up to 32% percent.
Rosemary extract: has anti-inflammatory properties, helps to soothe the skin.
Chamomile extract : soothes the skin, thickens the eyebrow roots, promotes hair growth.
Mountain arnica extract : has an anti-inflammatory effect, helps to calm the skin.
Apricot extract : has an anti-inflammatory effect, helps to calm the skin.

pH: 5-6.0 (@ 25'C)

Ingredient : Aqua, Glycerin, Phenoxyethanol, Ammonium Acryloyldimethyltaurate/vp Copolymer, Aloe Barbadensis Leaf Juice Powder, Arnica Montana Extract, Panthenol, Sodium Hyaluronate, Hydrolysed Rice Protein, Hydrolysed Wheat Protein, Hydrolysed Soy Protein, Ethylhexylglycerin, Althaea Officinalis Leaf/root Extract, Prunus Armeniaca Fruit Extract, Rosmarinus, Officinalis Leaf Extract, Chamomilla Recutita Flower Extract, Potassium Sorbate, Sodium Benzoate, Citric Acid
How to use:
Apply moisturizing serum over the brows using a mascara wand and style accordingly. Explain aftercare to client & give them a printed copy to take away along with a mascara wand. Use Esthetique line aftercare oil, or serum at home every evening.
YOU MAY ALSO LIKE THESE PRODUCTS