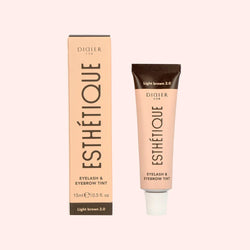 Brow and lash tint "Didier Lab" Esthétique
Tinting is a great way to enhance your natural eyebrows and eyelashes. It helps create the appearance of fuller & longer lashes, as well as give the appearance of fuller brows with more definition and restoring their shape.
With "Didier Lab" Brow and lash tint Esthétique you will be able to save time in your daily makeup routine as the tints last for up to six weeks.
It's long-lasting with 15 ml size sufficient for approximately 30 applications
The product is water-resistant & smudge-proof, so you can trust that your look will stay on-point all time long.
Achieve perfectly defined eyelashes and eyebrows with quick and easy to application.
Available in 3 color shades:
Black - for deep, dark, full, and intense lashes and brows.
Dark brown - very dark, with good coverage for a natural look.
Light brown - great for a natural look on blonde clients.

HOW TO USE IT:

STEP 1: PREPARATION
Remove contact lenses if wearing. To achieve the best results, prior to tinting we recommend to clean eyebrows & lashes with the Didier Lab Esthétique Brow & Lash Foam.

STEP 2: MIX & APPLY
Prior to tinting procedure mix together 2 cm of tint & 15-20 drops of Didier Lab Esthétique line Tint Activator Cream. Apply the tint using Didier Lab Esthétique Pro Master Brush.

STEP 3: PROCESSING TIME
Eyelashes: 10 min
Eyebrows: 10 min
Remove any excess tint using a clean cotton bud & clean lashes or brows using wet cotton buds.

TIPS: Prior to tint application we recommend to mark the lines where the tint will be applied to ensure most precise results. The processing time depends on the shade you`re looking to get. If prior to tinting were used Didier Lab Esthétique brow lamination products, processing time should be reduced to 2-3 min.
Allergy test should be performed min 24-48 hours before tinting procedure.

YOU MAY ALSO LIKE THESE PRODUCTS