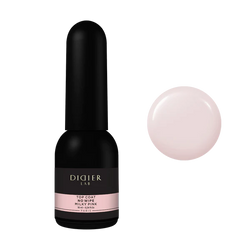 This semi-permanent top coat,  without sticky residue  and in a milky color was created to achieve quick manicures and to decorate nails painted in any color.
Quantity:  10ml 
Application :

Prepare the nail plate as usual: perform a manicure and shape the nail.

Remove excess oil and moisture from the plate with the Dehydrator Didier Lab"

If necessary (depending on the condition of the nail plate), apply an additional bonding agent (Acid free Bond, Extra Bond Nail Repair or Acid Primer).

Cover the nail plate with the chosen transparent base. Dry under the lamp as indicated in the description of the base.

Cover the base with a layer of Top Coat Milky Pink no wipe. Polymerization - 60 sec. LED / 120 sec. UV.

Attention:  the duration and intensity of the gloss of the topcoat depend directly on correct polymerization.

Removal  :  File  the finish with a 180 grit file and dissolve the varnish with Didier Lab  Remover for 5 to 7 minutes.  You can also completely file the varnish with the file. 


INGREDIENTS: Bis-HEMA Poly(1,4-Butanediol)-14/IPDI Copolymer, HEMA, HYDROXYCYCLOHEXYL PHENYL KETONE,
TRIMETHYLBENZOYL DIPHENYLPHOSPHINE OXIDE, Silica, BHT, CI 77891, CI 77491, CI 77492.
YOU MAY ALSO LIKE THESE PRODUCTS