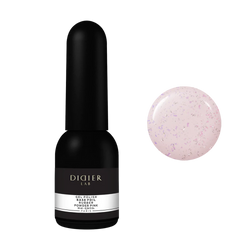 Didier Lab" masking rubber base with foil "Rubber Base Foil", Powder Pink, 10ml

     
Base with pieces of foil of various sizes.

The medium viscosity texture provides excellent conditions for shaping and evenly covering the base, immediately masking all the irregularities of the nail. This base saves time and enables the work to be done quickly and qualitatively!

Self-leveling, fast and even coverage.

An excellent choice for French varnishing, as the shades of the bases are perfectly suitable for this style of varnishing.

You can apply the base with 1 layer, then you will have a beautiful transparent effect, you can apply it with 2 layers - you will get a more covering image, or you can apply a thicker 2nd layer - then the effect will be full coverage of the nail plate.

It remains elastic during wear, does not crumble or crack, and dissolves easily.

It is possible to apply 1 or 2 layers and in this way adjust the desired effect.
USAGE
Prepare the nail plate as usual: perform a manicure and shape the nail.

Remove excess fat and moisture from the nail plate with "Didier Lab" Dehydrator.

If there is a need (depending on the condition of the nail plate), apply an additional bonding agent (Acid free Bond, Extra Bond Nail Repair or Acid Primer).

Cover the nail plate with the selected masking rubber base: a) Apply the 1st layer if you will later choose the usual method of varnishing, i.e. cover with color;

 

b) Varnish in 2 coats if you leave the base coat as color.

 

Attention

 

: in order to ensure an even longer wear time, we recommend varnishing the first layer with a transparent rubber base "Rubber base".
Dry each layer for 90 s in UV and 60 s in LED lamp, respectively.

 

If you cover the base with a thicker layer, keep it in the lamp twice as long.
Top with your chosen top coat of gel polish.

 

Dry in LED lamp 60s / UV 2 min.

Cleaning: dissolve in "Didier Lab" varnish remover for 5-7 min.
YOU MAY ALSO LIKE THESE PRODUCTS