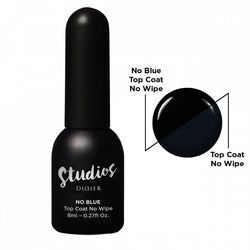 Studios Didier Top coat NO WIPE, NO BLUE, 8 ml
2 in 1
NO WIPE & NO BLUE
It is a special, top layer of dispersion-free gel nail polish combining 2 functions: WITHOUT DISPERSION, WITHOUT BLUE tint. High-gloss and resistant to mechanical damage reveals its true properties to lovers of dark and black colours. Nail polish with this Top Coat - black will be black. Shade of blue.
Features:
Very shiny

Resistant to mechanical damage

Smoothes out bumps

Without dispersion

Without a bluish tinge


Method of use:
Prepare the nail plate as usual: do a manicure and give the nail a shape

Remove excess grease and moisture from the Didier Lab Dehydrator nail plate.

If there is a need for additional preparation of the nail plate, choose and varnish all the nails with the chosen additional bonding agent: Acid free Bond, Extra Bond Nail Repair, Acid Primer or transparent base.

Varnish the nails with the base of the chosen gel polish and dry in a lamp LED lamp 60s / UV 2min (at a lamp wavelength of 395-405nm

Varnish in the selected gel polish color and dry in an LED lamp 60s / UV for 2min.

Apply Top Coat No Wipe No Blue with a top coat of nail polish   and   dry in an   LED lamp 60s / UV for 2min.
Removal methods:
Dissolving Didier Lab remover from 7-12 min. Before dissolving the file with 100/180 grit, damage the structure of the upper nail polish.

Removing the cutter

Dildo removal (100 grit will be most suitable)
Capacity: 8 ml.
YOU MAY ALSO LIKE THESE PRODUCTS