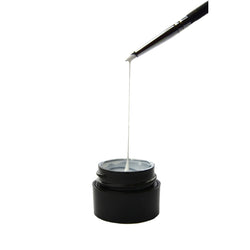 Premium Spider Gel
DESCRIPTION
Thanks to unique structure of Premium Spider Gel. It gives you unlimited possibility for a thin lines. like spider web. Rich and strongly pigmented colour consistency will make visible even the thinnest lines.
Features:
High texture of the pigmentation
Lines do not run down and do not lose shape
Rich and strongly pigmented colour consistency
How to use:
Overlaying the interior design elements with the top layer of nail polish top coat
Upper nail design elements leaving the terrain
Recommendation:
Premium Spider Gel can be applied whit the thin brush, wooden stick, metal or silicone-thin tool. It is recommended to decorate the relief design on a matte varnish-covered nail, then the design will become even more noticeable. When decorating on a glossy surface, it is necessary to remove sticky from the colour or the top coat. 
YOU MAY ALSO LIKE THESE PRODUCTS