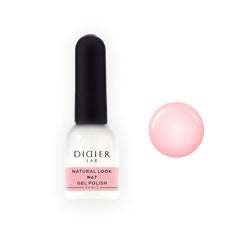 Natural Look
The new Natural Look gel polish formula is based on the most popular and popular trend in the varnish industry  - Jelly Nails. Long and natural looking nails are becoming more and more popular now, which is what this Natural Look collection guarantees!
 This effect is airy, semi-transparent, kissel, which creates the impression of a very light and gentle gel polish. Varnished nails will look as if they are covered with camouflage gel when the nails look varnished but at the same time light barely visible. It is a great choice for French varnishing, only it will get the  image of a  modern classic here.
These are watercolor effect varnishes that can be used as a complete nail coating, but also a great tool for various design solutions. This line ranges from very wide use - from classics to art.
The Natural Look collection consists of light smoky semi-translucent soft tones.
For craftsmen who go hand in hand with fashion and new possibilities, it is simply necessary to have this collection of gel polishes and offer their customers first. Thanks to the Natural Look collection, you will dictate fashion to your customers and introduce them to a new style of nail wearing!
With this collection, there are limitless possibilities to create light and sufficiently bright air coverings. Depending on the desired effect, varnish in 1-3 coats.
When varnishing, it is important to know that the first coat of the transparent base is affected by the beautiful coating of the Natural Look line. The more evenly it is applied, the more natural the Natural Look varnishes will look.
ADVANTAGES:
Does not run and does not leak to the sides, will polymerize extremely quickly

Varnish with camouflage gel effect (nail varnished but at the same time and looks very natural)

Invisible regrowth - due to the uniqueness of its transparent texture, regrowth is visible with minimal or complete fusion with the natural nail plate.

Ideal for Ombre technique as it delivers a subtle transition naturally.

Easy to combine and perfect for combining with other Didier Lan line varnishes: Studios Didier, Didier Lab Macarons and others.

Watercolor consistency
Functions:
✔ Consistency - self-leveling.
✔ Coating - fast and even.
✔ Texture - smoky, semi-transparent, kissel.
✔ Polymerization - 60s sec. LED / UV
✔ Cleaning - dissolving in varnish cleaner / cutter.
METHOD OF USE:
Prepare the nail plate as usual: do a manicure and give the nail a shape

Remove excess grease and moisture from the Didier Lab Dehydrator nail plate.

Varnish all nails with the selected additional bonding agent: Acid free Bond, Extra Bond Nail Repair, Acid Primer or transparent base.

Varnish optionally from 1-3 coats. The number of layers depends on the desired result - effect. Dry in a lamp in an LED lamp 60s / UV 2min (at a lamp wavelength of 395-405nm).

Apply Top coat with the selected top coat of gel polish. Dry in LED lamp 60s / UV for 2min.
Capacity: 10ml
INGREDIENTS: Acrylates Copolymer, 2-Hydroxyethyl Methacrylate, Hydroxucyclohexyl phenyl ketone, diphenyl (2,4,6-trimethylbenzoyl) phosphine oxide, SILICA, May Contain: CI 45430, CI 77266, CI77120, CI 19140, CI 42090, CI 15510, CI 15510, CI 15510, CI 15510 10020, CI 51319, MICA.
Attention! May produce an allergic reaction: irritating to eyes, nose and skin. Keep away from open flames. Keep out of reach of children. Do not store in direct sunlight. Keep product tightly closed.
 For professional use only.
YOU MAY ALSO LIKE THESE PRODUCTS