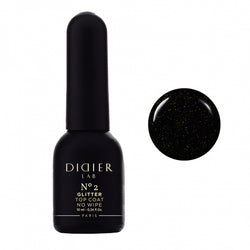 Top Coat Didier Lab, Glitter No.2, 10 ml
Subtle, gentle glitter effect giving the upper layer of nail polish  Top Coat Glitter without adhesive  perfect solution when the need to quickly and without time-consuming padekoruoti already varnished nails. Perfect for both full nail polish coating and individual decor elements to emphasize. The glowing particles will enliven the manicure depending on the color of the varnish you choose: black and dark colors will look luxurious, and light colors will acquire a subtle playfulness.

Functions:
Smoothes out bumps

Easy to operate

Medium thickness

Features:
Very shiny

Resistant to mechanical damage

Without dispersion

Method of use:
Prepare the nail plate as usual: do a manicure and give the nail a shape

Remove excess grease and moisture from the Didier Lab Dehydrator nail plate.

If there is a need for additional preparation of the nail plate, choose and varnish all the nails with the chosen additional bonding agent: Acid free Bond, Extra Bond Nail Repair, Acid Primer or transparent base.

Varnish the nails with the base of the chosen gel polish and dry in a lamp LED lamp 60s / UV 2min (at a lamp wavelength of 395-405nm

Varnish in the selected gel polish color and dry in an LED lamp 60s / UV for 2min.

Apply Top Coat No Wipe Super Shiny with a top coat of nail polish 

  

and 

  

dry in an 

  

LED lamp 60s / UV for 2min.

Removal methods:
Dissolving Didier Lab remover from 7-12 min. Before dissolving the file with 100/180 grit, damage the structure of the upper nail polish.

Removing the cutter

Dildo removal (100 grit will be most suitable)
Capacity: 10 ml.
YOU MAY ALSO LIKE THESE PRODUCTS