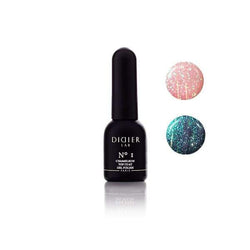 Top coat hybrid nails Top coat, Chameleon Didier Lab No1 will change every nail polish thanks to a million particles!
Enhance the shine of your hybrid nail polish with a nail top!
Shiny hybrid varnish is something that everyone draws attention to. Top coat no wipe is a real expert in this field. The lack of a dispersion layer makes the hardened top layer hard and very shiny. You must try this gloss on your nail polish!
We know that you want your hybrid nails to look perfect, which is why the main feature of the top no wipe Studios is the protection of hybrid nail polish. The no wipe hybrid nail top is durability and above all resistance to nail polish abrasion for up to 6 weeks!
Evens out unevenness, creating a smooth surface on the nail plate. It does not change the color of the hybrid varnish, and the liquid consistency allows for quick and precise application.
The top coat no wipe resembles rubber, which makes it easy to apply, because it does not flow on the cuticles near the nails. The cap of the black bottle is extremely comfortable, without feeling tired, even during many hours of manicure.
Thanks to the magical glitter particles contained in Top, you can change any hybrid nail polish!
YOU MAY ALSO LIKE THESE PRODUCTS