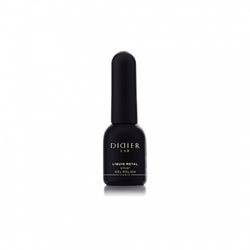 Maximum saturated, silver pigment gel polish. The soft, viscous and smooth 
silk texture smooths itself out. Rich liquid metal particles can be used 
as a base against stained glass gel polishes, decorated by shrinking 
various shapes with a magnet, as design elements, etc.
Unlimited design and varnishing options!
1. Prepare the nail plate as usual: perform a 
manicure and give the nail a shape.
2. Remove excess grease and moisture from the 
Didier Lab Dehydrator nail 
plate.
3. Varnish all nails with the selected additional bonding 
agent: Acid free Bond, Extra Bond Nail Repair, Acid 
Primer or transparent base.
4. Varnish 1 coat of selected Didier Lab base and 
dry in a lamp with an LED lamp for 1 min / UV for 2 min.
5. Varnish the selected dark contrasting 
color of Liquid metal silver gel polish as a base. 
Black contrasts 
best . Dry in a lamp LED 
lamp 1 min / UV 2 min.
6. Coat the nails with Liquid metal Silver gel and use a 
magnet to extract the various shapes of 
metal particles. After obtaining the 
desired design, dry in an LED lamp for 1 min / 
UV for 2 min.
7. Depends on further desires and desired 
effect:
• Apply Vitra Gel with the selected varnish (No1, No2, No3, 
No4, No5). You will get an impressive effect of deep stained glass.
• Use Liquid metal gel for small design 
elements, to convey a drop effect, for infused French 
decoration, and more.
YOU MAY ALSO LIKE THESE PRODUCTS